Today I am so honoured to have Julie from
The Girl in the Red Shoes
stopping by to contribute to mum-made.
I first discovered Julie when I fell in love with the "Breastfeeding Diaries".
I was craving this exact sharing of experiences over new motherhood when Maddie was first born, and have been a huge fan ever since.

Julie has the cutest little boy Hudson who is a few months younger than Madeleine, and I just love empathising with her trials and triumphs in the everyday wonderment that is motherhood!


I am so excited to introduce you to another inspiring mama, over to you Julie, thank you so much for sharing.
My criteria for meals are: yummy taste, healthy ingredients, and easy to make. So, one day I made up this recipe based on things that Hudson loves to eat....and it turns out my husband and I love it too!
Enjoy!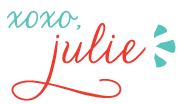 Thank you so much for being part of mum-made Julie. I know my readers will fall in love with Hudson (and Wrigley too) and I am so grateful for the opportunity to share you with my friends! Thank you thank you thank you.

Psst!! If you are looking for a little more meg-made, I'd LOVE for you to follow along!